Vajiram and Ravi Polity Notes PDF Latest (Download)
We welcome all the UPSC aspirants. In this post, we will share the latest edition of Vajiram and Ravi Polity Notes PDF. These notes are fully handwritten, scanned and available to download for free. Moreover, their polity notes are very concise and really easy to understand.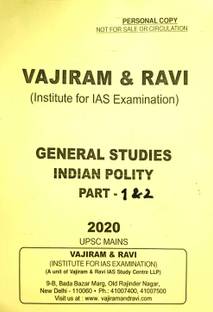 Important Links for PDF Download
Vajiram and Ravi Polity Notes PDF Download (Part 1) - Click Here
Vajiram and Ravi Polity Notes PDF Download (Part 2) - Click Here
Other subject study material/notes by Vajiram and Ravi -
Get Here
Details of Vajiram and Ravi Polity Notes PDF


Book - Vajiram & Ravi - Indian Polity Part 1 & 2 [printed Notes]
Author - VAJIARM & RAVI
Binding - Paperback
Publishing Date - 2019
Edition - 1ST
Number of Pages - 475
Language - English
Are Vajiram and Ravi polity notes really useful?
As we know,
Vajiram & Ravi
is one of the oldest and quite reputed IAS Coaching in India, preparing candidates for Civil services examinations. Moreover, the notes are prepared by highly trained and experienced instructors from Central Universities and other reputable institutions. Thousands of students refer their notes and get success in the examinations.
Hence we cannot doubt their quality.
Aspirants should be aware that Indian polity is a portion that is primarily static in nature, easy to grasp, but difficult to master. Because the questions posed in this section are quite vague. Every year, 15 to 20 questions in the prelims of the UPSC Civil Services Exam come from politics alone.

As a result, this Vajiram and Ravi notes pdf has everything you'll need to ace the examination.

Student Reviews of Vajiram and Ravi polity Notes
Most of the students found the content to be useful for UPSC CSE Mains & Prelims exam also. However, some students felt that the content was not updated and grade of content to be mediocre. We recommend checking 2 -3 resources before making your decision to follow any book/resource blindly.

Bonus: How to study Polity?
The Constitution is unquestionably the most significant topic in Indian politics, but it also covers themes such as government policies, center-state relations, new legislation, laws, governance concerns, social justice, and so on.
It is critical for a candidate to keep up with local events since this fosters understanding of one's rights,and responsibilities and allows one to make a rational decision.
If you want to pass the UPSC, you'll need a thorough comprehension and a suitable approach to Indian Polity. It's one of the simplest subjects to pass because the curriculum is factual and brief.
Hope these notes help you in the journey of your UPSC preparation. If you have any doubts, please ask in the comments below and do share with your friends.
Note- This book was neither created nor scanned by Internshipslive. We are simply giving links that are already available on the internet, to help the IAS and UPSC aspirants. We do not own any trademarks or copyrights of any institute name mentioned. If the content violates the law or causes any problems, please contact us here. Thank you very much.